Homily preached by the Rev. James LaMacchia
April 2, 2015
Maundy Thursday
Exodus 12:1-4, (5-10), 11-14
1 Corinthians 11:23-26
John 13:1-17, 31b-35
Psalm 116:1, 10-17
My Friends:
One of the real surprises of the first of my many trips to the Holy Land was my visit to the church there dedicated to Saint Peter.  It is located just outside the Dung Gate of Jerusalem's Old City, and it is erected on the traditional site of Peter's famous denial of Jesus during Jesus' trial before Caiaphas in Caiaphas' house, not very far from that same spot.  Believe it or not, I even heard a cock crowing in an adjacent yard as I walked toward the church in the early morning to avoid the heat and the large crowds later in the day.  Of course, my cynical disposition wondered briefly whether this was sheer happenstance or if the church paid its neighbors to keep this crowing rooster in their yard for the benefit of pilgrims like me.  Whatever its cause or purpose, this crowing cock reminded me of Peter's betrayal of his Master Teacher and friend.  And because I identify so closely with the characterization of the impetuous Peter in the Gospels, I was caught off guard and was somewhat shaken by this sound, even as I looked forward to my visit to this church.
As soon as I entered the church, however, I realized that nothing could have prepared me for the intensity of what I saw there and the inner drama of what I experienced there.  The monumental icons in the church's sanctuary of scenes from Peter's biblical interactions with Jesus were absolutely mesmerizing, and the stairway down into the first-century prison cell where tradition holds that Jesus was beaten and spat upon as he awaited his crucifixion the next day was completely overwhelming.  I came away from the hours that I spent in that church, praying before those icons, with a completely new sense of the unique relationship between Jesus and Peter, and of my own place in that story.  The regret and sorrow on Peter's face in the icon of his historic denial of Jesus, set behind the high altar, reminded me of my own regrets and remorse over my own secret denials of Jesus through the years in the hidden places of my own heart.  And yet, as a poignant counterbalance to this realization, there were the two other icons to the right and to the left of that central one in the sanctuary: one, of Jesus offering Peter forgiveness and his pastoral mandate on the shore of the Sea of Galilee after the Resurrection; the other, of Peter's steadfastness and fidelity to his Lord when the crowds turn away from Jesus over Jesus' proclamation that he is the "bread of life" earlier in Saint John's Gospel.  There it was:  the whole spiritual journey—my spiritual journey—set before my very eyes in the story of Peter's relationship with Our Lord.
So, it will come as no surprise when I tell you that, as I prayed this week over tonight's readings from Holy Scripture, I was immediately struck by Peter's reaction to Jesus' effort to minister to his friend by washing his feet.  Peter, after all, was quite rightly taken aback by this strange reversal of roles:  the rabbi washing his students' feet?  It was a duty considered so low and demeaning at the time that not even a master could require his slave to perform that duty for a guest in his house against the slave's will.  I'm sure that Peter was speaking for all of the Twelve when he cried out in astonishment to Jesus, "Lord, are you going to wash my feet?…You will never wash my feet."  But Jesus would have it otherwise when he replies, in a clear reference to Holy Baptism, "Unless I wash you, you have no share with me."  So Peter, a man of large passions and wild extremes, in that case replies, "Lord, not my feet only, but also my hands and my head."
Now, it is traditional on this night called "Maundy Thursday"—which comes from the Latin for "mandate" or "command"—for the Church to remind us in the strongest possible terms of Jesus' words toward the conclusion of tonight's Gospel:   "If I, your Lord and Teacher, have washed your feet, you also ought to wash one another's feet."  And we are right to do so.  So seriously is this command taken that in those churches not subject to the tyranny of the clock or personal squeamishness, this act of foot-washing is liturgically acted out by the priest and the congregation at the liturgy.  So, for those among us with qualms about such matters, I would like to make virtue of liturgical necessity by offering another perspective—one that came to me from both my prayer and my experience in the Holy Land that summer long ago at Saint Peter's Church.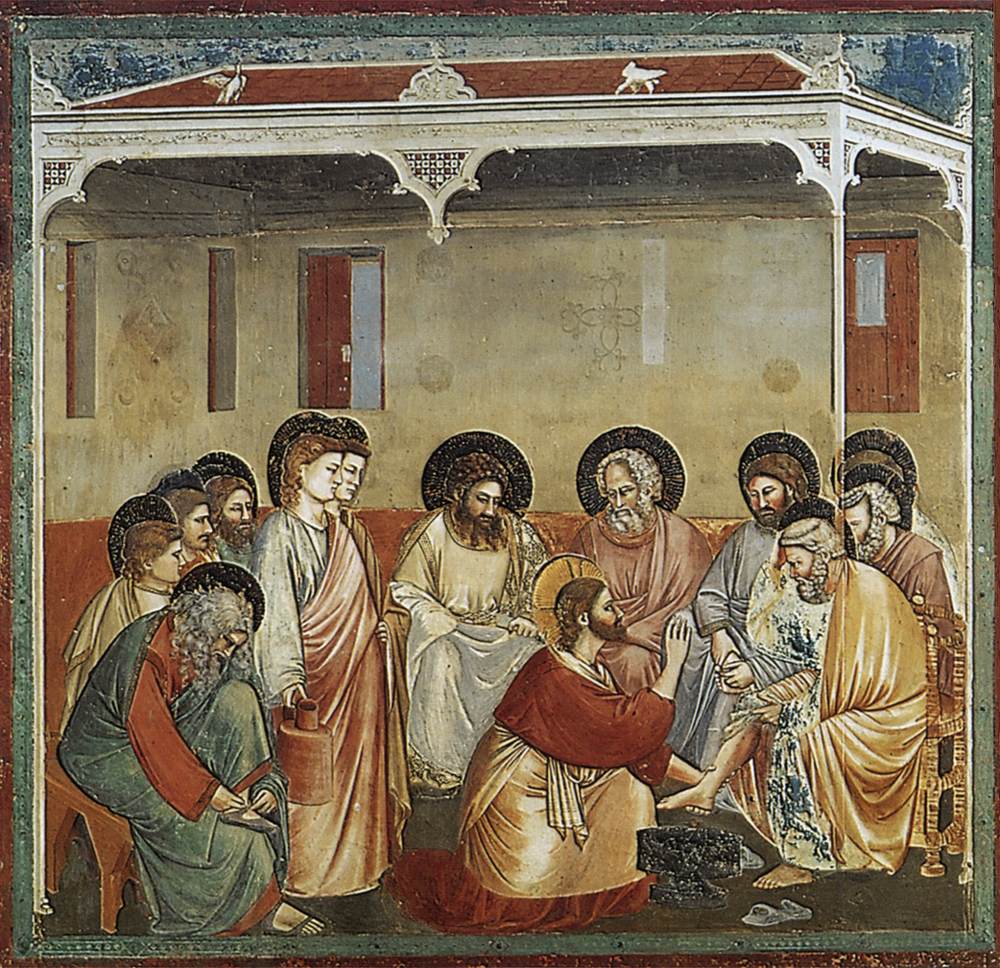 How hard it is for us—and for me, anyway—to let our Lord minister to us and to save us!  When you think about it, Peter's reactions to Jesus' efforts to minister to him are not so different from yours and mine.  So often, especially in the West, we want to be in control, in the proverbial driver's seat, of our own destiny, even of the spiritual journey.  We want to take the initiative in our own salvation by doing whatever it takes to achieve our so-called goals, even our spiritual ones.  But tonight, Jesus is asking us to take another approach by becoming his guests.  He wants us to just be while he ministers to us and saves us, the baptized, first, by washing our feet, and then, by feeding us with his very own "body and blood."  He has taught us that we will know him "in Scripture and the breaking of the bread," (BCP) and it is really as simple as that.  WE DON'T HAVE TO SAVE OURSELVES—EVEN IF WE COULD—BECAUSE GOD IN JESUS CHRIST HAS ALREADY SAVED US.
Psalm 78 asks the rhetorical question:  "Can God set a table in the wilderness?" and the answer, of course, is "Yes!"  In the sacrament of the Holy Eucharist, instituted at the Mystical Supper, God "opened the doors of heaven" and "rained down manna upon them to eat and gave them grain from heaven.  So mortals ate the bread of angels; he provided for them food enough," just as God did for our "elder brothers and sisters in faith," the Jewish people, as they wandered through the desert wilderness following their redemption by God from 400 years of slavery in Egypt.  As the fourteenth-century mystic Dame Julian of Norwich wrote in her Showings, "The greatest deeds are done already."
So relax, sit back, and celebrate this festival of the Lord before his Passion and Death.  We are his invited guests tonight at this foretaste of his "heavenly banquet," "the marriage feast of the Lamb."  To enjoy it, my sisters and brothers in Christ, we need only have the humility to let go of the "false self," with its doomed programs for emotional happiness, and by allowing ourselves to be saved.  The spiritual journey is a voyage with no destination: there is nothing to do; there is no place to go.  We have only to consent to the "Shekinah," the "Presence" and the action of God within and among us—washed as we are by "the blood of the Lamb" in Holy Baptism, and given "bread for the wilderness" every time we "eat his body and drink his blood" in the sacrament of the Holy Eucharist.  The journey into God is a road to nowhere that requires only one tiny step: out of ourselves and into the new life in Christ Jesus.  And yet, what a difficult step—for me, anyway—that road to nowhere can be!
So, this Paschal Triduum—tonight, tomorrow, and the Great Vigil of Easter—is Jesus' invitation to each one of us to allow him to save us here and now in this world, that we may be his honored guests at his "heavenly banquet" in the "life of the world to come."  All we need do is to say, "Yes! I will. Yes!"                AMEN.